Pharmacies make their digital revolution with a slight delay compared to other sectors that innovate for more than a decade. Pharmacies face increased competition and digital is an essential tool for differentiation from competitors.
In France, some companies want to develop online sales despite the high government regulation on this subject. Since the beginning of 2017, Pharmabest and Pharma Express offer a click and delivery service for prescription-only medicines. First limited to the cities of Marseille and Paris, the concept may extend quickly if successful: customer scans his prescription, he sends it to the pharmacy and receives his order within an hour.
However, the digital revolution is also within the store. Pharmacies change, get more modern to improve the customer experience. Three innovations get our attention:
Launched in every retail activity, beacons are sensors that communicate directly with the customer's smartphone. They retrieve data to customize offers and send them to the device (for example thanks to his order history) or to improve the customer reception (when he arrives at the counter the pharmacist knows already his name, his preferences, his lasts purchases…).
Available room, location in the customer journey, turnover rate are crucial factors that allow the store optimization.
To limit space constraints, pharmacists can call in digital linear with a touchscreen. The customer can view an unlimited number of products (diet products, medical supplies…). He can read the descriptions and fill his shopping cart alone. After that, he can pay on the device and collect his order from the pharmacist (to respect the medical ethics).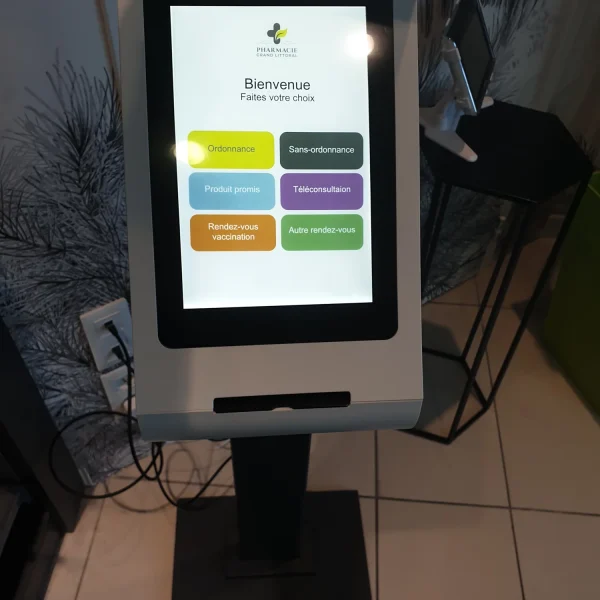 Waiting lines affect customer experience by generating frustration: waste of time, exasperation because of the running order…
These kiosks answer this problems by improving wait time and transforming it in shopping time. When he comes in, the customer selects his visit purpose on the kiosk (purchase, information…) and he takes a ticket (virtual or paper). While waiting for his number call on a display, he can browse the products and finish his purchases. He doesn't need to worry about the running order.
To wrap-up, pharmacies make their digital revolution after the others retail sectors. Now, innovations increase and this sector will change a lot in the next years.
With its 35 years of experience in queue management, ESII offers all the solutions to upgrade the customer journey in a pharmacy to a pleasant and fulfilling experience.